"When my two sons, Bill and Steve, were very small I would make up bedtime stories for them almost every night. With so much storytelling practice I began to contribute more to the Disney stories, but always with illustrations. I couldn't possibly give up drawing. Finally I became Walt's top writer-illustrator on his animated features. It was much more of a job than I had bargained for, yet I enjoyed the creative freedom. I always had a second career in mind, and after twenty-seven years I left Disney's to write and illustrate story books. At last my boyhood ambition was realized, and quite a bit more, for I never intended to write them."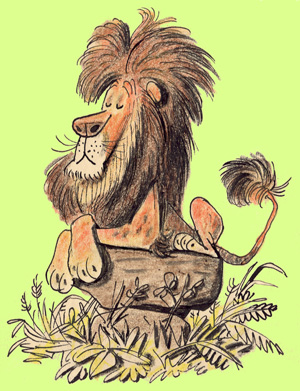 PROUD HUBERT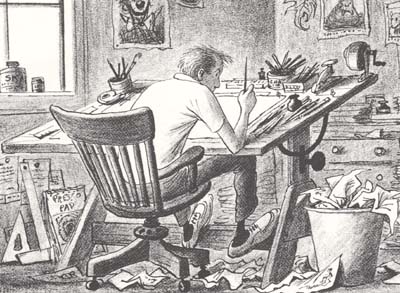 SELF PORTRAIT OF BILL PEET IN HIS STUDIO
"

When my first book, Hubert's Hair-Raising Adventure, was published in the 1959, I was delighted with the favorable reviews it received in the newspapers. But it didn't occur to me that the most important people, the kids, were yet to be heard from. When I finally did hear from the young readers their letters came by the thousands - and all full of enthusiasm for my lion, Hubert. Their letters have continued over the years, and nearly all of them include questions."