"The moose was shivering from fright. Tomorrow was the first day of hunting season, which meant terrible trouble for many of the creatures living in Knotty Pine Forest. The big fellow was on his way to a meeting of the animals, held every year on the day all the shooting began." "The purpose of the meeting was to try to figure out some plan to foil hunters and save their own skins."
"Another of my problem stories was about the so-called 'sport' of hunting taken from an animals point of view. The story starts the day before hunting season and the animals gather for a meeting hoping to come up with a bright idea to outwit men with guns and save their skins. But after a great deal of talk and not one practical suggestion, the meeting ends in silence. And that is where I gave up the idea and put all the writing and sketches on the shelf with the other "almost stories". It was years later while mowing the lawn one evening that a solution to the animals' problem came to me. The lawn mowing was interrupted time and again by buzzing swarms of gnats coming at me from out of the grass, and they seemed to have a plan of attack, always going for my eyes and ears. Fighting them off and pushing the mower at the same time was impossible, and in a losing battle I fled the scene."
"But it wasn't a total loss. That relentless overwhelming attack was just the thing for my hunting story. An all-out attack by a few billion buzzing gnats could be mind-boggling to the hunters and send them fleeing from the forest in a frenzy. A very simple solution, but not so simple to illustrate, which called for dotting gnats by the thousands, to look like billions, with a fine pen point. I wanted to make sure I had dotted in so many that none of my literal minded young readers could count the gnats when the story says, 'out of the grass swarmed great clouds of gnats! Billions of them!' "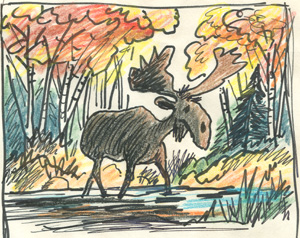 FIRST PAGE FROM ROUGH DRAFT
Bill Peet wondered how an activity, in which one side can't win and the other can't lose, could be considered a sport. This story was targeted by some hunters who did not want my father's point of view expressed. They attempted to have The Gnats of Knotty Pine removed from library shelves. Field and Stream magazine compared this book to pornography! Bill Peet, Jr.