"Having written and illustrated 28 books doesn't make me an authority on how to create a picture book. And I don't have any secret formulas, or short cuts for doing one (no formula for originality). No right or wrong in creative work – no way to teach originality. My most recent efforts were just as frustrating as the early books, alas!! Experience - practice - doesn't make the work easier, in fact it may be more difficult after so many books.
The more ideas one has used up, the less he has coming." *** "I always begin my stories as experiments – on large yellow tablets – a mixture of writing and sketching. (day dreaming)" ***
"Sometimes I draw character first just to get acquainted; then decide what problem they might have." *** "I am an author-illustrator of children's books – and yet – I must confess I don't do the books for the kids. When I'm working on a book I'm somewhere else – at the circus – or a rustic old farm – or deep in a forest – with no thought of who might read the book or what age group it would appeal to. I write them so I can illustrate them." ***
"It could be that when I'm creating a book I take a nostalgia trip back to my boyhood years in Indiana. When I'm illustrating I can visualize the farms, fields, the forests, the old barns, the big top circuses, the great locomotives going full steam. A better time for artists – It was far more visually exciting."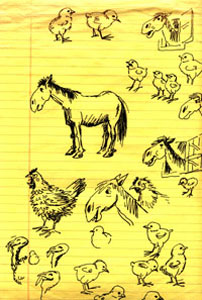 Above, a page from a yellow legal tablet. Sketches for Cock-a-doodle Dudley
*** "When I was a kid I thought sure that I would be content if I could find a reason to draw pictures the rest of my life. I never suspected that drawing pictures for someone else (Greeting card Co., Disney's) would be frustrating and far from being creative." ***
"Being both author and illustrator gives me the choice of subject matter. If I want to draw an elephant, I write about one, if I want to draw lions tigers, bears, dragons, trains – I write about them. ***"When I plan a story I make lots of sketches of the characters. After I draw them I know them better, then I find it easier to write about them." *** "If I go for a week or two without doing a drawing – I more than make up for it, by doing 50 or 100 drawings on some days. Averaged out over the years I've probably done at least 2 or 3 drawings per day (more)." ***
"I bought a number of books, instructional books on how to write stories, but couldn't read them. So I had to learn by doing, and during those Disney years I wrote a number of magazine pieces, Christmas story for McCalls, and finally screen scenarios for Disney's animated features (but always illustrating)." ***
"Words describe the thinking of the characters – and not deal with landscapes, or mood of the weather – color of things – anymore than necessary. Balance between text and pictures." *** "No way to keep track of time – false starts – rewrites. Spend half the time on stories that I may never complete." *** "I do recall how I got the ideas for some of my books. Many of them are a result of doodling."
(See Book List to learn the origins of many of his stories.)

Bill Peet always carried a small note book (below) with him where ever he went, in case he got an idea or saw something interesting to sketch. He would often tear out the pages with drawings and tape them into a rough draft to save drawing time, so many of these little note books are now empty. Bill put his name, address and phone number in them in case he accidentally left them some where.
*** "I don't like to get preachy, but when it works well with the story I'll bring out a point, and at the same time, I hope to make it entertaining, and fun to read." *** "Above all, a story book should stimulate an interest in reading. If there is a point made – teaches a lesson or a moral – so much the better."