"A number of my pictures received prizes, which was greatly encouraging, but after leaving school I realized I would have to do something else. I had met Margaret in art school and we were planning to be married as soon as I could figure out a way to make a living. That was back in 1937, a very poor time to start a career as a painter, so when I learned that Walt Disney needed artists for his animated films I headed for California. At Disney's I became a sketch artist, planning screen stories, and as soon as the job began to show promise, Margaret and I were married. When my two sons, Bill and Steve, were very small I would make up bedtime stories for them almost every night. With so much storytelling practice I began to contribute more to Disney stories, but always with illustrations. I couldn't possibly give up drawing. Finally I became Walt's top writer-illustrator on his animated features. It was much more of a job than I had bargained for, yet I enjoyed the creative freedom."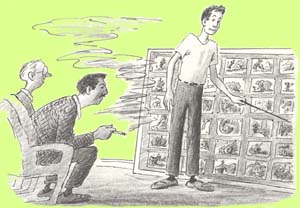 Bill explaining storyboard to Walt.
For more about his job go to Storyman.
Bill in his room at Disney's Studios in Burbank, California. Taken about 1960.
Taken about 1940, this photo shows a young Bill Peet (second row, far right) and his good friend Joe Rinaldi, in front row with Pinocchio book.